Slide 1
Exotic Pet Medicine in Lisle, IL
For Your Exotic Pet
Slide 2
Holistic Pet Care
in Caring, Experienced Hands
Slide 3
Pain Management
For All Types of Pets
Decades of knowledge within our dedicated, attentive veterinary staff ensure your exotic pet receives the highest level of care.
Ness Exotic Wellness Center provides the highest quality exotic pet care and prides itself on caring for our patients through a wide variety of integrative therapies while staying grounded in high quality diagnostic procedures, medicine and surgery.
Ness Exotic Wellness Center offers integrative therapies for our exotic pet patients as well as holistic therapy options for dogs and cats.
New state-of-the-art advanced diagnostic imaging with addition of our Vimago Pico, with which we perform High Definition CT Scans and Fluoroscopy.
Ness Exotic Wellness Center provides some of the latest technologies in pain management recognition and treatment for our patients to minimize your pets pain and suffering as well as reducing the need for pain medications.
Receive the best possible emergency assistance for your exotic pet. Please click on the link below to find services.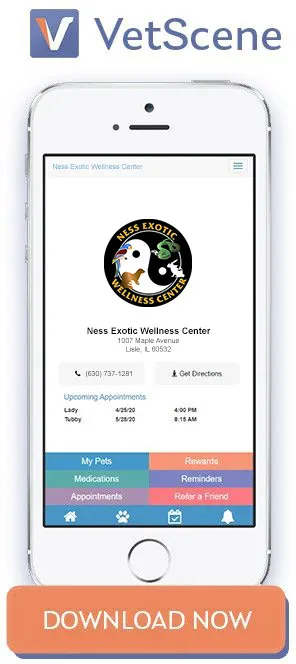 Download The VetScene App To Access Our Clinic
The VetScene app puts the healthcare of your pets in your hands. With the free app, you're able to connect with us at the click of a button.
Request appointments and view future appointment schedules
Refill medications
Access pet health records
View reminders and vaccination history
Upload your pet's latest photo
View our clinic specials for timely promotions